The report highlights several risk areas
The report highlights several risk areas. These relate to:
high demands, expectations and pressure that may affect health
obstacles to seeking help
lack of flexibility and interaction in the services
NHIB recommends that the Norwegian Ministry of Health and Social Care facilitates all local authorities being able to fulfil their obligations pursuant to the Norwegian Health and Social Care Act and the Norwegian Public Health Act in respect of everyone who is granted residence in Norway with family reunification.
High demands may affect health
For some refugees, the demands of everyday life and the introduction programme end up being more than they are able to manage during the initial period after arrival. Refugees have been through difficult life experiences and undergo an extreme transition with complete upheaval in all areas of life. Their health may be good upon arrival, but the demands and experiences of life in Norway can become a huge burden. Some develop serious health problems.
The obstacles to seeking help are complex and linked to both the refugee's understanding of and trust in the support services and their ability to meet the needs of refugees.
Fear of the child welfare services constitutes another obstacle that affects trust in other services.
Reunited families require the same close follow-up as other refugees, but the reception system is weaker and more random. The investigation shows that refugees' lives are placed under high pressure after arriving in Norway. The welfare system, including health services, is poorly adapted for the life situation and reality of refugees.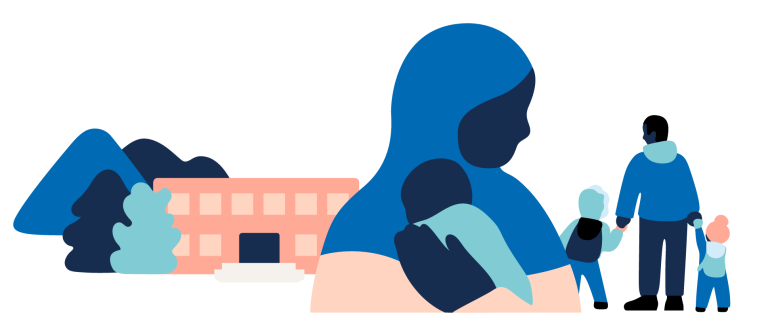 Local authorities have different approaches to how they organise services for new arrivals. There are significant variations in scale, which also varies in line with the influx of refugees. In some local authorities, refugees meet a health visitor only during their initial health check. In other local authorities, the health visitor is co-located with adult learning and easily accessible to new arrivals. Services in Norway are unfamiliar upon arrival and it is difficult to work out what is included in the different services. Refugees often arrive in the country with low levels of trust in public bodies.
The current system is designed so that new arrivals will use the regular health services as soon as possible. These services do not always have the necessary expertise in relation to migrant health.
Inadequate interaction and flexibility
There are many people involved in integration work in a local authority and the exchange of information between them may be inadequate.
For example, employees in adult learning may have little collaboration with health and social care professionals. Inadequate interaction results in no-one having an overall overview of the refugee's challenges and needs. Several of the informants in the investigation suggest that refugees should have only "one door in" to the system.
Individual refugees face several risk factors at the same time. The various systems are organised through disciplines in which participants often work independently. Inadequate interdisciplinary and interagency interaction means that those who are most vulnerable are not identified and the services are not in a position to help. Language barriers are challenging and interpreters are often not available. In order to meet the needs of refugees, it is crucial for the services to have a flexible understanding of the roles and that employees are able to assist with problems that extend beyond their own area of responsibility.
Expert communities related to migrant health are one resource that the local authorities could utilise better. Voluntary organisations also have the expertise and commitment but are not adequately utilised.
Legislation has not been adapted
Safety is paramount for women. The investigation shows that women do not know their rights. This weakens their legal protection.
Legislation and the rights of refugees are not always adapted to the needs of refugees. The purpose of the Norwegian Integration Act (3) is early integration but the act only to a limited extent takes into account the fact that refugees and reunited families are experiencing a pressurised life situation. At the same time that they have to qualify for permanent residency in Norway in a relatively short period of time, the conditions for a good life are also put to the test.
Failure of care following serious incidents
Our investigation shows that there is a risk that those who are affected by a serious incident do not receive adequate psychosocial follow-up.