Jonas' story is an individual event that is far from unique. HIB has been notified of several similar stories.
It is difficult to predict the risk of suicide among adolescents. A large-scale Norwegian study on children aged 15 and younger who had committed suicide showed that the children did not differ significantly from their peers. Only 25 per cent of these children had been diagnosed with mental illness (1). According to the National Survey System for Suicide, 41.4 per cent of young people between the ages of 12 and 24 who committed suicide had been in contact with the specialist health services in the year preceding their death (2). Greater knowledge is required in this field.
The story of 17-year old Jonas shows that it can also be difficult to reach adolescents with support. Measures that are suitable for one adolescent may not be suitable for others. The services must have an individual approach for each adolescent.
Several surveys and knowledge summaries have been performed to identify the needs of children and adolescents. Furthermore, various projects and pilots have been initiated and strategies and instructions have been prepared to strengthen services for children and adolescents. The collected material is vast.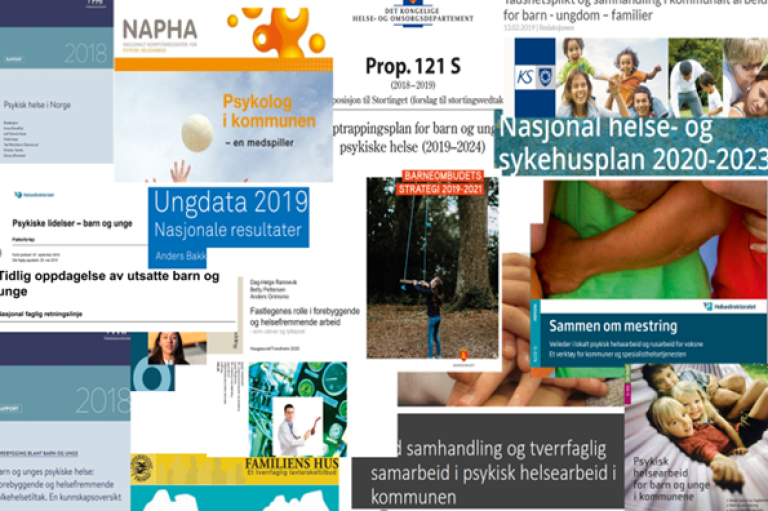 The illustration above shows some of the many documents on the subject of mental health in children and adolescents.
In the Norwegian Ministry of Health and Care Services' escalation plan (3) for child and adolescent mental health for the 2019-2024 period, it is noted that the plan must be viewed in the context of initiated and previously implemented plans, messages, strategies and interventions. In total, the plan references the 46 most important documents. The escalation plan addresses a total of 69 different items describing what the government will do to improve the services. These relate to the continuation of measures, new surveys and a desire to invest more resources in individual areas.
The complexity of the governance signals is growing as new studies, trials and arrangements are initiated. Each service provider has to be familiar with an extensive knowledge base and has to work in line with recommendations.
There is a risk that a large collection of documents with different guidelines and models results in unclear standardised frameworks for the services.